images Funny Comic - Large fish: This
Funny Naruto Comic Page 2 by
All EB2's will becomes current before your turn (with horizontal spillover in works now)
does anyone havea any idea about the EB3 status for the rest of the world? please experts give us some hope....my PD is May 2006. Any hope soon????
---
wallpaper Funny Naruto Comic Page 2 by
funny comic cartoon panel
Will the core team be sharing their strategy for 2007 with the members?


I don't think core is going to spill it's strategy on the forum for world to see. I would suggest you to join local chapter to know how things will be performed. :)
---
Funny Comics
Hi everyone!

I had a question about receiving updates in the mail and checking the case status online. This is for my Marriage-based GC interview at the San Francisco office. My service center is Missouri MSC.

I had my interview for marriage based GC on May 27th. The interview was short and went very well. The IO said that everything was in order, though I needed to have my dr resend USCIS my medical reports again as the dr had missed some fields on the medical form. The IO said many dr's were missing some fields on the recently updated forms. The IO then gave me a form which said that I needed the medical examination resent and which also had the "Further review" box checked. The IO said I should get something in the mail within 10 days of USCIS getting the new medical report.

I immediately went and had my dr resend the medical report with everything filled out. The USCIS acknowledged the receipt of the new fully filled medical form on June 2nd.

It is June 18th today and I have not received anything in the mail yet. The online USCIS case tracker hasn't been updated in months and still shows my case as having been on the "Accepted on March 17th" stage, even though I've already done the finger printing and the interview. Calling the 1-800 number for status updates says the same thing, that I applied on March 17th and that a letter was mailed to me regarding finger printing.

Do you know why I haven't gotten anything in the mail yet, or why the online status tracker hasn't updated at all? I wonder if this is a bad thing, a normal thing, or if the San Francisco field office [or the Missouri Process Center MSC] is taking longer than usual to send out mails after the interviews?

Thanks!
---
2011 funny comic cartoon panel
dark humor. funny. comic.
When did you send your I485? Is it in June or July?
---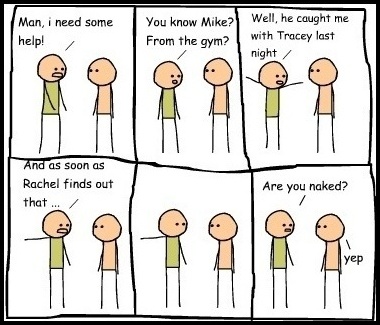 Clipart » Funny » funny comic
You need to be present in US at time of applying for the extension and when its approved. Said that in your case I think it would be fine to start H1B extension process after you are back. May be to be safe you can try doing it premium(if company is ready to spend extra money) as it gets done usually in less than a month.
---
funny comic. makeup funny
My status on I-140 changed to "Request for Additional Evidence". Notice was sent only on 25th, so I don't have any more details yet.

Just wondering if anybody has any idea what it could be?

google around for RFEs... the three most common ones are:

- ability to pay -> this is for your employer to prove... if you are from a small company, or have been paid less than prevailing wage or LC wage, this might come up.

- education qualifications -> if your LC said the job requires 4 year BE in CS, and you have a 3 year BSc in Mathematics, this might come up

- experience letters -> if your LC said the job requires 5 years of experience, and you have not submitted detailed experience letters for those, you'll get this RFE.

Having said that, dont worry about it until you actually receive the RFE, it could be for a bunch of things, some serious, some completely trivial. If your LC required some minimum experience and you did not submit copies of your experience letter, you may want ot start contacting older employers, otherwise just wait till the RFE actually comes.
---
Funny Comic Drawing - Funny
Thank you Anne for your reply.

My wife did call the National Customer Service Center and opened a service request too. But we have not heard anything yet. We tried getting an infopass appointment but none is available in our area. We will try it again tomorrow. I am kind of surprised how this can happen because in the USCIS database, approval of derivative application requires a check on primary application approval first. This is what I have been told by another lawyer.

Thank you for your input.

Most likely, a clerical mistake of some kind was made. Your wife should call the National Customer Service Center to start the inquiry process.
---
2010 Funny Comics
Funny Comic - Large fish: This
imagine, if MF digital backs were say, $6999, how many would sell???

bloody thousands....

seems stupid to me to make them so expensive
Right now, they can't make them cheaper. Michael Reichmann (sp?) of the Luminous Landscape speculated that Leaf probably makes a dozen or so of their new Valeo 22 MF backs each month, compared to how many hundreds of thousands of dRebels Canon makes? IIRC, he estimated that the sensor alone (without any support electronics or other hardware) might cost $5000 per unit to make.

Don't be mistaken, I'd love to be able to afford one of those, too, but it will be quite a while before the prices come down significantly (and I doubt they'll ever get quite that low).
---